What you will be Learning
Normal walking entails two parts that lead to falling on ice:
Pushing back with the back foot
Weighting the front foot.
Each results in different kinds of falls, one of which is depicted, at right.
In this course, you will learn to walk while keeping your weight over your back foot while your front foot leads, finds proper footing and then adding weight to it - without pushing back.
It's complex to say, it feels complex to do it all at once -- so it helps a great deal to have a course to "learn the steps".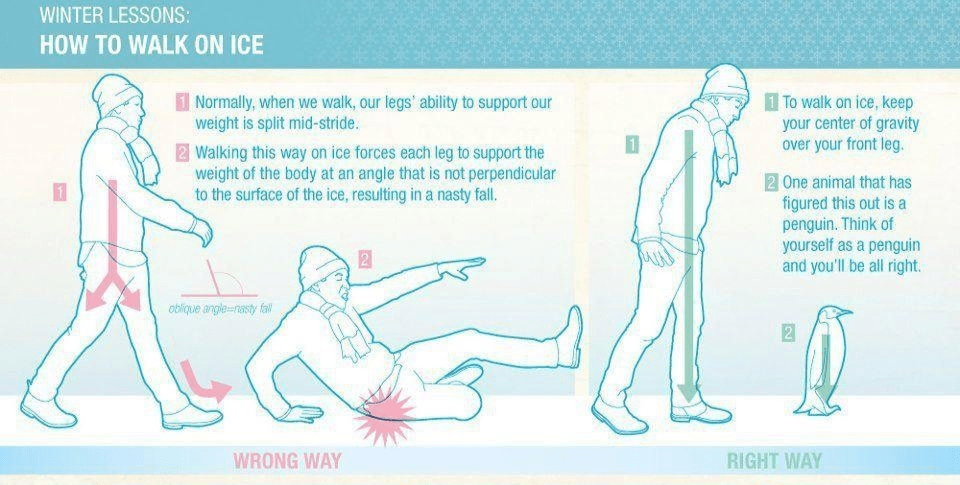 Once you register, you will be able to access information. It will be in an easy-to-follow webpage with an index, like at right, and a variety of topics for you to peruse in the days after you register.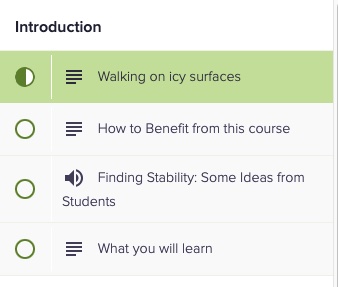 Winter Walking - Learning The Steps
Meet the Instructor, Rob Black, and view an excerpt.
What People are Saying:
"I'm writing to say how much I like your lessons. I've learned so much each time. I like the way you lead us through the explorations and each time I have a rich experience. Sometimes it is a brand new look at something I'm familiar with. Today's class added, enhanced and integrated so much from yesterday that I felt that previously I had experience 10% of what dawned on me today. " - OR, Thunder Bay
---
"I am walking more thoughtfully especially when outside.  In particular what parts of my foot is landing, remembering to breathe and the transferring of weight from one foot to the other.
"I found the image of flowing whether by water or sand very useful as a point of reference. I seems to help me to move with greater ease- when I remember.
"Thank you for sharing your expertise……I enjoyed the class and look forward to the next one." -- JM, Edmonton
---
"Yesterday I went for a bit of a walk. At some point I noticed a bit surprised that there was quite a spring in my step." -- OR, Thunder Bay
---
"I have benefited in many ways from this course... It has been a great help as I work on my balance. My balance when walking and moving about safely has been an ongoing issue for me as I have MS, and the things I learned in this class will be a great asset for me." -- LL, Calgary
--
"It was obvious that you are a very experienced presenter, extremely knowledgeable and passionate about your topic..."
"I have been walking for decades but never gave any thought to the placement of my feet. I am now consciously aware of where the weight is in each foot as I move on snow/ice and stairs. Thank you for the manner in which you presented this information and reinforced it in each lesson. The concepts have been both a valuable visual and practical concept. The information on your website is a fabulous resource. " --MW, Thunder Bay
Check your inbox to confirm your subscription