Walking Matters!
Winter is beautiful -- but also has challenges -- with uneven surfaces that can also be slippery. And that leads to the chance of
FALLS!
Here are some tips to reduce the chance of falling:
What you wear on your feet can help lower your risk of falling:

Boots or shoes that fit well and have a good grip are the best choice.

Special items like shoe grips or ice cleats can give you extra traction when you're walking on snowy or icy surfaces.

Keep your head up and don't lean forward.
Keep your hands out of your pockets to help keep your balance.
If you use a cane, you can buy an ice pick for the cane.
Try not to carry heavy things that can make you lose your balance, or large things that could block your view. If possible, use a backpack to keep your hands free.
(thanks to: My Health, Alberta )
For more ideas, check with:
Learn to Walk Differently
The video, at right, has some interesting ideas, the most important being that
You can LEARN to walk
Safely in icy conditions
There are different ways to walk, and extraordinary help to learn to walk in ways that will work for you.
- - - - -
This site will have a course for you.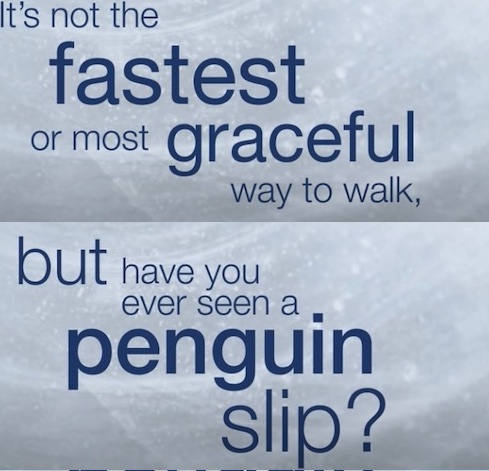 Learn to Walk in Winter, safely
January, 2022: a new way of thinking about walking safely - through learning new ways -- that you can use over and over again.
Part 1 is Five days for one hour each morning.
Register before December 15 and save OVER $40.
Check your inbox to confirm your subscription